Our great friend and erstwhile mentor Ed Bassford died on the 28th of July 2017. Ed was a stalwart of the Chanctonbury Ring Morris Men; he made a real difference to the quality and variety of dancing locally over the past 50 years.
Ed Bassford
Ed started Morris Dancing in 1967 as a student at the University of Sussex. Following a Morris Ring Directive to try and get young people involved in Morris Dancing, Chanctonbury Ring Morris Men led by Paul Setford started teaching students at the University and Ed attended the first practice. This initiative led to the formation of the University of Sussex Morris Men and Ed was a member until he joined Chanctonbury in the early 1970s. The University and Chanctonbury sides developed a close relationship: sharing the same teachers, repertoire and stands. The University side has now evolved into the Brighton Morris Men.
In April 1975, Ed along with fellow dancers Ed Lyons, Eric Moquet and Dave Hood attended a workshop of North West Morris Dancing held in Pershore, Worcestershire led by Derek Froome and Roy Dommett (our four attendees are now known as the Pershore Four). This enthused Ed, and he started Chanctonbury's North West side. This type of dancing was different from the Cotswold style that was generally seen in Sussex at that time: the noise of clogs and colourful kit and the loudness of the music. Ed was proud that Chanctonbury was the first side south of Coventry to do this type of dance. Ed led the North West side until 1992.
Ed was always keen to impart his knowledge. When the Knots of May started in 1974, Ed was there teaching. Again, when Cuckoo's Nest Women's Morris started in 1977, Ed taught them during their fledging years.
He faded away from Chanctonbury in the early 1990s, but would make welcome return to the North West side on special occasions, for example to lead us through the streets of Lewes on Bonfire Night. Later, when he became too ill to dance, he would maintain an interest and spectate whenever possible.
Ed Bassford was the Squire of Chanctonbury from 1975-77.
In the 1970s and 80s, Ed was a popular Barn Dance caller with the Sussex based "The Pump and Pluck Band" led by Vic Gammon, and "The Biggest Trio in the World".
For an alternative view on Ed's other life, follow this link to Brighton and Hove Albion
His wry smile will be missed by us all. Our sympathies are extended to all his family and friends.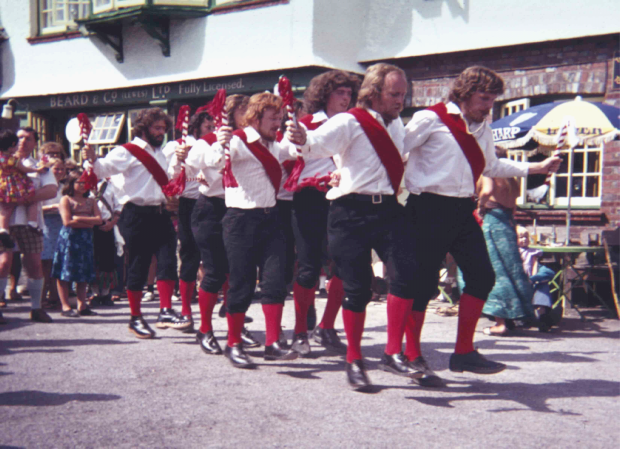 Ed dancing at number 1 - first performanceof the North West, Photo - Dave Hood